Right. I'm shutting down my social life for the next two weeks and a bit, because just like 2012 and indeed every four years since 1980, I have Olympic fever. Not the mosquito borne one, but the once every four years need to live my life vicariously through the dedication and skills of others.
But it's a corrupt, overblown, ludicrously expensive white elephant. Of course it is. All modern sport is. I don't care. I like bread and I like circuses.  I'm not some naive idealist who still believes that the Olympics continues some great Corinthian tradition. I'm a sports fan who believes with a passion that for two weeks every 208 weeks, it is quite nice that it isn't all about football. 
The relentless Premier League hype machine is upon us once more, with few people stopping to think about whether the unquestioning worship of false idols might possibly be part of the reason England are so mindnumbingly shit at major tournaments. So allow me my obsession with unsung heroes, sports stars who have strived to be the best in the world but will never sit at sport's top table when it comes to earnings and fame.And Andy Murray. For the next two weeks I am going to cheer taekwondo, scream at kayaking, ogle the swimmers, and pray that Charlotte Dujardin's dancing horse Valegro has mastered his moves to Skepta.
I shall be keeping a daily blog, outlining potential highlights and the hottest men. Such as Devon Allen below, not only the third favourite for the mens 110m hurdles, but also a wide receiver.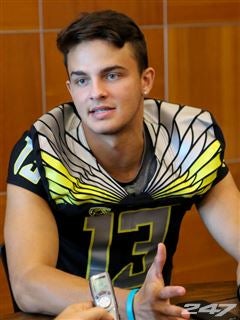 I hope to emerge in a couple of weeks, a joyous, hoarse-voiced man. But more importantly than that, here's to a safe trouble-free Olympics. x