So it wasn't super Saturday. It was a decent Saturday. It gives me no pleasure to say that the air of caution in yesterday's blog was spot on. Jessica Ennis Hill performed splendidly and was ultimately narrowly beaten by one of the all time great Olympic heptathlon performances. Such was the brilliance of Nafisattou Thiam's seven events, it seems highly unlikely that we will see KJT contesting gold in the next few years.
Greg Rutherford can take great pride in his final, under pressure, bronze medal winning jump. Through his determination, he has over achieved based on natural talent, and can hold his head up high. Whatever happens now, his a splendid career.
And then there is Mo Farah. Against the background of Brendon Foster's boneheaded commentary, he ran a race for the ages, recovering from a fall to win brilliant gold. Who knows this may be enough to propel him into fourth place for SPOTY this year.
In amongst some fairly disappointing GB athletics performances yesterday was a simply brilliant one from Matthew Hudson Smith who smashed his personal best to reach the 400m final. Bravo.
That 400m final is part of a packed athletics programme today which also includes the big one, Bolt versus Gatlin.  As usual, for all that is good in track and field, please Mr Bolt can you do the business.
Until Mo runs the 5000m, it may be slim pickings for GB athletics this week. Our big medal hope is Laura Muir, who runs in the 1500m semi finals tonight.
The enigmatic Christine Ohuorogu also runs her semi finals tonight.She looked ok in the first round, but seems likely to be making her customary strong finish a little bit too late. I hope I am wrong.
Outside of the athletics we have not one, nor two nor even three but FOUR BIG GOLD MEDAL PROSPECTS.
Cycling – Men's Sprint
My heart says it will be the GB cyclist, my head says it will be the other one. It's Kenny versus Skinner.Named after characters from South Park and the Simpsons respectively. I shall be watching in a tremendously relaxed mood.
Golf – Men's strokeplay
A promising newcomer called Justin Rose currently leads the field. He is only a shot ahead of man of the moment Henrik Stenson and therfore still has it all to do. But he clearly likes the course.
Tennis – Men's Singles
A promising newcomer called Andy Murray takes on another relative newcomer in Juan Martin Del Petro, I don't really know enough about either to make any adequate analysis. But the young Scot starts favourite.
And finally, and by no means least, it is………………………………………..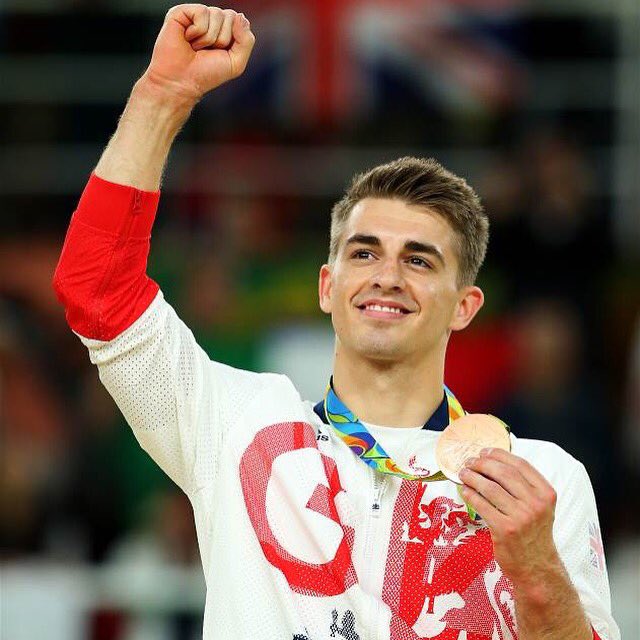 Apparently his name is Max Whitlock. He has no more than an outsider's chance in the floor exercise today. But he also goes in the pommel horse, an event in which he has long been the outstanding favourite. His main rival appears to be a man called Louis Smith who hopes to put to bed memories of this years team event. We are already guaranteed one gold/silver combination today. A second one would be magnificent. They are the world number 1 and 2. Please,please,please,please………………..(cont page 199)
Also around Rio,
Joshua Buatsi fights for a place in the light heavy weight semifinals.
Mark Cavendish begins his quest for Omnium glory. He has a fighting chance.
It's the quarter finals of an extremely open men's hockey tournamenr.
It may not be the busiest day of the Olympics. But i am keeping everything cross that it may be one of the most golden.